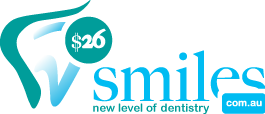 $26 Dollar Smiles the brain child of Dr Jamie Harris is creating a wave of excitement across the dental industry.
Finally dentists can perform procedures without financial restrictions thanks to $26 Dollar Smiles a dental medical membership club. Let's face it many Aussies need dental work on some way or another.
If your a parents finding it hard to raise the funds to get their child's teeth straightened, whitened, braces or fillings. You name it a $26 Dollar approved and endorsed medical clinic then your dental procedures can be carried out at any one of the many new $26 Dollar Smile endorsed clinics coming online over the next few weeks, the list grows day be day. So when your discounted dental procedures are required you can these dental procedures completed without draining the wallet or bank balance.
$26 Dollar Smiles has partnered up with medical health financial giant Mac Credit to be able to provide funding for adults and children alike.
So fear of price can no longer be an objection to having those problem teeth fixed, before you or a loved one can say no or find a better solutions to dental and oral health issues.
Remember the mouth and teeth tell a lot about a person, their hygiene and personality I am sure we are on the same page real food for thought. Remember the website it will be  a game changer in the Australian dental space.
Visit 26 Dollar Smiles today for a longer lasting smile tomorrow.
httpss://www.youtube.com/watch?v=PhTSHe7Bi8Y