When it's time to dress to impress remember the name Uncle George visit them online at www.jewellerybygeorge.com.au a quality jewellery and homewares store located in Hastings Street, Noosa, Queensland.
Consider uping your dress code with Melbourne Cup just around the corner ladies dress for the day and the occasion.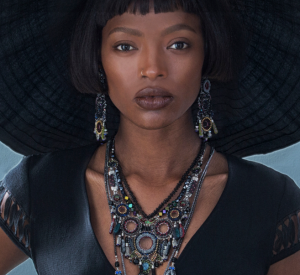 Yes Stylers, the race that stops a nation is off and runnning in under two weeks.
Are you planning to be at trackside at Flemington in Melbourne, at a fancy lunch or at a low-key gathering with your girlfriends?
If so, this post is for you.
This post is also for readers who wrote asking for some Cup Day fashion advice.
1. Keep it classy. Race days are steeped in tradition and that tradition should be honoured. It doesn't mean a dowdy approach to your race-day outfit but it does mean that your dress shouldn't be mistaken for a top. And it does mean staying relatively sober should you be entering fashions on the field.
2. Plan your outfit starting with the dress. I once had to find the outfit for a client to work back with a hat she'd fallen for (hello Sue, I love that you're still getting wear out of that outfit BTW!). It can be done but it's a whole lot easier to find the dress and then buy the hat (or have it made) to suit.
3. Headwear is a must. A hat, fascinator or headpiece it's not a race day outfit without one. If at a function indoors, err on the smaller side so as not to knock out the person sitting next to you. Trackside? Go to town on the size factor and make a statement with it.
4. Invest in a one-off piece of millinery. This isn't a possibility for everyone but if it is a statement you want, then this is the way to go. Ask around for recommendations or contact your local TAFE to see if there are any student milliners near you whose work is cutting edge yet undiscovered. Want more wear out of your head piece or hat? Op't for a design in a neutral base but with coloured adornments you could have changed later for a different race day outfit.
5. It's spring so your outfit should reflect that. Traditionally Melbourne Cup Day fashion is associated with a whole lot of colour. If you're doing the entire Spring Racing Carnival in Melbourne then by the time Cup Day rolls around you will have already trotted out your black and white for Derby Day and have an ultra-feminine number ready for Oaks Day. Outside of Melbourne, you can definitely get away with a Cup Day outfit that is monochrome or girlie just make it fun and fabulous with your own spin on it.
6. Match but don't match. You want all the elements in your outfit to complement each other but you're not going for a matchy-matchy scenario. Your bag doesn't have to match your shoes and your hat. Your bag might pick up a colour from your dress and your shoe colour might feature in your hat but they don't all have to be the same hue.
7. Choose your footwear wisely. It's never a good look to leave a Melbourne Cup Day function or the races barefoot and carrying your shoes in your hand. Wear shoes you know you can go the distance in. This isn't so much of a consideration if you're just going out to lunch and then doing the school pick-up but it most definitely is if you are trackside.
8. If your buying a new dress, buy something that you know you'll wear again. Ideally you already have an event or occasion coming up during the party season where you know you'll be able to trot it out without the headwear. And if you work in an office, maybe it's something that this time next year will join your work wardrobe. Thinking of a dress purchase this way means that if it initially costs more than you would normally spend, its value will be in the distance it goes in your wardrobe.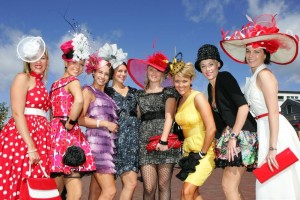 9. Book in with your hairdresser. If you have not already done this and are planning attending a fancy Cup Day function, stop reading and make the call. Your headwear might look best with an up style or you may just need expert help in securing to your head so it lasts all day.
10. Your makeup should go the distance. Primer is your friend, as is a long-lasting foundation, smudge-proof mascara and either a gloss you can easily re-apply or a long-wear lippy. Get it right at home and all you'll need in your clutch is a lip colour and maybe some pressed powder. Oh and if you're at the track or spending the day semi-outdoors, pile on the sunscreen.
So this Melbourne Cup remember the  name Uncle George www.jewellerybygeorge.com.au